March 24th is Ada Lovelace Day, celebrating women in science and technology careers. Ada Lovelace, the daughter of Lord Byron and Anne Isabella Milbanke, wrote the first computer program for Charles Babbage's analytical machine; it calculated the Bernoulli numbers. While the machine was never constructed, Lovelace's notes on the machine itself are considered very important, and I remember reading somewhere that the code she wrote was verified on modern machines, but I can't seem to find any confirmation of that so don't quote me on it. She's also the first person to realize that computers would be useful for much more than just rote calculations, realizing that the numbers used in calculations could be rpelaced with words, musical notes, or other small units of information. The fact that she managed to get an excellent scientific education and pursue her passion for math in 19th century Britain, where women weren't encouraged to be educated, let alone in mathematics, is largely due her mother, who was similarly inclined. Ada Lovelace Day is an effort to get women to blog about their experiences in science and technology careers, in recognition of her extraordinary work and the many barriers we still face.
I've been extremely lucky in my academic career so far. I've had excellent supervisors and colleagues, and my gender has not been much of an issue at all. There've been ignorant comments from notably few of my fellow grad students, and to occasional eyebrow raising comment, but when I think about it I'm surprised at little sexism I've run in to, after listening to other women's stories. I'm currently, for the second time, the only woman in my research group (though this time the group consists of a whopping three people, so I'm not sure it counts), and while I don't feel singled out because of my gender, I do still feel very obvious, and there's pressure (and stress) because of that.
I've been meaning to write a post about how, since this is a blog about clothes and image identity, dressing with intent is complicated for me, since I already stick out in my academic environment. Contrary to what pretty much all of my friends will tell you, I'm quite shy; I'm outgoing with my friends, and have no problems talking to strangers if need be, but I'm very shy with respect to the acquaintances in the middle who I see every day but am not particularly close with. My supervisor made a comment the other day about how surprised he is that people in the class he teaches dont know each other, and I made a quip about how I hide in my office. So needless to say, dressing in a way that stands out (because anything other than jeans + t-shirt level of dressing does) takes me out of my comfort zone. I'm working on it, but I've hit a few mental speedbumps lately and that's why there's been nary a peep from my wardrobe around here.
I'm well, well aware of how lucky I am that this is the level of stuff I have to worry about on a daily basis. I've benefited enormously from women who've gone before me and shown that women can do math and science; it's up to me and my generation to show the world that this shouldn't be extraordinary. We are underrepresented at virtually all levels of academia, and there's a truckload of factors that cause the gender gap (I'm not wading into that mess here). I'm taking a class this semester where out of 10 people, 6 of them are women; this is the first time I've taken a course pertinent to my degree where women were not just half the class, but the majority. (I'd estimate that I've taken probably around 30 classes that were required or directly relevant to what I was doing.) There've been plenty of classes of where I've been the only woman or one of two or three. This is changing, but we can't just sit back and expect things to shift on their own. We need to work to support women in science careers, work to keep women in the jobs they want (rather than being squeezed out because of the way the system is structured — tenure track hoopla, I'm looking at you). And by we, I mean men, too.
Perhaps this is a good time to list some excellent blogs written by women in science?
Additionally, here's a lengthy blogroll of women in science, organized by category. The archive of Ada Lovelace Day posts is here. Historiann has a review of the recent report by the American Association of University Women on the gender diversity of science, which is worth a read (the report itself can be found here (PDF)). And of course, no post about barrier women face is complete without the perennially appropriate xkcd comic entitled How It Works: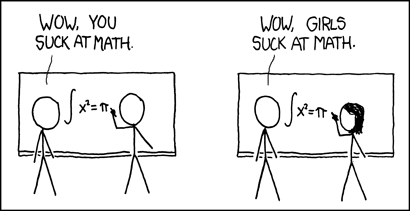 That pretty much says it all.